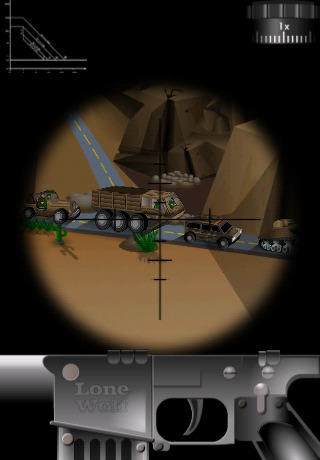 Codename Lone Wolf is the latest in the sniper genre with several unique features that you won't find in other games. After 6 months in development, Codename Lone Wolf brings you high quality custom drawn graphics with over 4,000 frames of animation made specifically for the iPhone and iPod Touch. Each of the 26 missions is unique and modeled after real world locations.

Do you have the patience, accuracy, and the ice-cold killer's instinct for the job?

FEATURES
* 25 Unique Missions
* 3 Distinct Mission Types - SWAT, Marines, Assassin
* Varied Mission Objectives - Hostage Situation, Counter Sniper, Sniper Fire Support, Advanced Reconnaissance, VIP Protection, Assassination, and more.
* Over 4,000 frames of animation.
* Multiple levels of zoom with NO delay and in many cases, no image degradation.
* Accelerometer controlled aiming.
* Missions take you to locations around the world from Colombia to Afghanistan to streets of Sao Paulo to Hong Kong and many more.
* Your accuracy is reported in detail: head, body, arm, and gun shots. Yes, you can shoot the gun out of the hands
of some targets.
* No artificial "scope shake". Accuracy depends solely on your ability to your hold your hands still.
* Auto-save. If you are interrupted, simply launch the game at a later time and press CONTINUE and you will start where you left off.

No Internet connection required to play.


COMING SOON
Worldwide online leaderboard
Additional missions


NOTE:
Codename Lone Wolf pushes the device to its limits to accomodate all the animation, please restart your iPhone or iPod Touch after installation to ensure the best possible performance.

You will enjoy Codename Lone Wolf if you like these games:
iSniper (i Sniper)
Shooter
Super Sniper
Tactical Assassin
Sniper Assassin
Urban Sniper
Tactical Sniper

iSniper, Shooter, Super Sniper, Tactical Assasin, Sniper Assassin, Urban Sniper, Tactical Sniper, and "One Shot One Kill" trademarks are the property of their respective owners. All rights reserved. The quote from "One Shot One Kill" does not constitute sponsorship or association with the trademark owner's product or services.
-=-=-=-=-=-

New in this version * Added Mission 26
* Mission debriefing for failed missions so you know what went wrong and why you failed it.
* On screen mission timer for timed missions.
* Animation bug fix for dead enemies riding on a vehicle. Now travels with the vehicle instead of dropping dead onto the road.

Languages English

Requirements Compatible with iPhone and iPod touch

Requires iPhone 2.2 Software Update

To View Links You Have To Be Registered!!
Download Links: