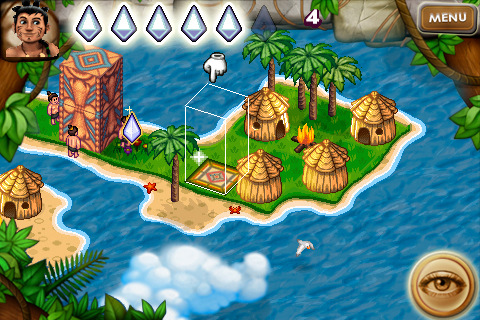 Travel to the ancient world and discover Diamond Islands, a refreshingly and addictive puzzle game packed with up to 100 levels and a whole lot of fun!
Make your way through the 10 ancient archipelagos to satisfy the gods in a test of logic and strategy. Take control of cute islanders by tilting and shoving giant totem blocks around the tropical islands to solve innovative puzzles and collect rare diamonds. Complete your missions and unlock up to 30 special spells to prove yourself worthy.
PREMIUM FEATURES:
•High replay value with 100 fun and original puzzles
•Unlock up to 30 ancient tips that you can use in your real life
•Navigate around interactive map obstacles such as bridges, mud pits, rafts, and more
•Engaging story with a set of charming characters
•Great controls - gently slide or tap your fingers on the touch screen to move the big totems
•Pleasing music and sound effects
MORE FUN FOR FREE
There is a Lite version for ea. DChoc game: Crazy Penguin Catapult, Chocolate Shop Frenzy, 3D Tower Bloxx Deluxe and 3D Brick Breaker Revolution.
MORE VALUE w/ THE PREMIUM VERSION
Download the Paid version for unlimited replay value packed with even more gameplay modes, levels, power-ups and special unlocks. Get the full experience!
FIND DC ON THE WEB
Get updated with Digital Chocolate's latest product, promos and game tips! Visit us on Facebook, MySpace, YouTube and Twitter! Find us FAST by searching for dchoc.
All trademarks referenced herein are the property of their respective owners.
To ensure optimal functionality of your game, restart your device before playing a new application. New in this version - SPECIAL SALE: For the first time, all premium Digital Chocolate games
are on sale for only $2.99! Search "DCHOC" to find us fast. Sale ends
March 31, so act now! Games include -- Diamond Islands, Crazy Penguin
Catapult, 3D Tower Bloxx Deluxe, 3D Brick Breaker Revolution and
Chocolate Shop Frenzy.
- General optimization and bug fixes to improve game stability
Languages English
Requirements Compatible with iPhone and iPod touch
Requires iPhone 2.2 Software Update
Download Links: