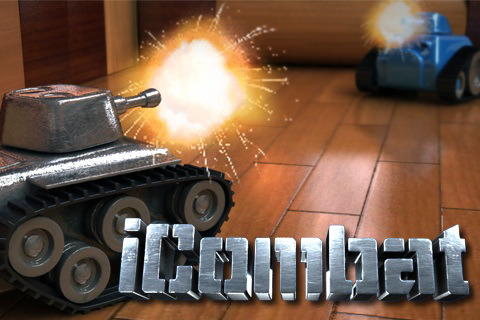 Finally you can play a modern version of the classic Combat Tank game on your iPhone!
Steer your powerful little tank by tilting the screen while tapping anywhere to fire your missiles. Like with the original Tank Pong, your missiles bounce so you have to think carefully about how to navigate the levels using the ricochet to kill enemy tanks.
In addition to being able to drop mines, you can collect bonus items like invisible, shield, grenades and homing missiles and use them to try to beat 20 challenging levels.
Also has an awesome 2 player mode, with 5 random levels with bonus items for you to battle your friends.
Features:
- Accelerometer based steering
- Tap screen where you want to fire
- Plant mines that can detonate with a pinch, enemy contact or by time trigger
- Detonate walls with mines or grenades
- Collect bonus items: grenades, homing missiles, shield and cloaking
- 20 levels with up to 10 tank enemies per level
- 3 difficulty modes (Hard is almost unbeatable!)
- 3 types of tank enemy
- Navigate obstacles including anti-tank barriers while detonating walls to pass levels
- 2 player battle mode across 5 randomly selected levels
- Original soundtrack and sound effects
Get iCombat now for our special introductory rate!
NOTE:
* 1st Gen iPhone users - there is currently a lag for 2 player mode but we will try to have this fixed in future updates
* Global High Score league tables and more levels to come soon
Please send us your ideas and feedback! We will decide on what to include (bonus items, weapons, etc.) in next updates based on your input so visit us at
http://www.icombatgame.com
New in this version Unavailable
Languages English
Requirements Compatible with iPhone and iPod touch
Requires iPhone 2.2.1 Software Update
Download Links: