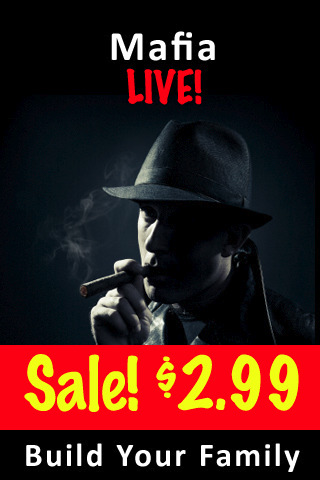 The BEST online Massive Multi Player Crime Game for the iPhone and Touch. Start as a rookie and progress to be a Made Men by out smarting other real players.
LONG DESC:
Mafia is a game that immerses you in the criminal underbelly of The City as you progress to become the Don of your Mafia family - in REAL TIME against other players around the globe!
You begin your quest to create the most powerful crime family as a rookie on the streets of The City. To do this, you need to buy guns and cars to battle other Mafia Families (other real players around the globe!). To progress in the game, you need to beat other Mafia Families (while gaining experience and taking their cash) and perform other missions to gain respect and hone your skills.
As your power and wealth grows, more options become available to you. People will offer you properties to buy in The City; bankers will want to help you launder your cash; and other families will be both jealous and resentful of your success.
Join forces with your friends and add to each other's strength. You can persuade other Families in the game to join you...if they don't, you have an option to take them out.
Download Mafia now - The City awaits you...
While On Sale $ .99, you get all this for less than the price of a coffee at Starbucks!
VERSION 2.1
-added 20 new missions
-added more items revealed after levels 10, 15, and 20
-added an additional 25 levels to the game
COMING SOON:
The BEST UI you have ever seen. But don't loose your chance to be the Top Family. Get Mafia LIVE! today!
***********
***********
If you like Mafia LIVE!, please take a few seconds to write a review, thank you!
***********
RECENT UPDATES - PLEASE READ
1/23
My Snitch - new! Which family is the biggest, most brutal, most reckless? Go to him to find out... although you must be of a certain stature first before a snitch will serve you...
1/22
New support website, now you can vote for your features - click on Mafia LIVE! Support to get there.
1/20
Users - we heard you say that the UI is too small and not friendly. Try it now and give us some feedback!
CHEATERS BEWARE:
The Godfather will catch you. If you suspect this behavior from others, please email
fraud@aftershocksf.com
, if it is true, you will be well rewarded.
New in this version Minor client updates for speed, performance
Languages English
Requirements Compatible with iPhone and iPod touch
Requires iPhone 2.0 Software Update
To View Download Links You Have To Be Registered!!
Download Links: