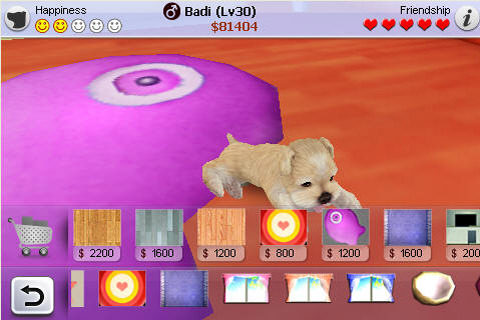 Want a Bolt like live puppy on your iPhone? Get your iPuppy here!
iPuppy series bring you true 3D lovely Schnauzer on your iPhone! Play with it now!
The first true 3D pet on iPhone:
Play with your lovely puppy, feed, bath and take good care of it. Train it to learn more fun actions. Make your puppy prettier by shining suits.
Features:
- Full 3D lovely puppy and dynamic animation with A.I.
- A growing and learning puppy
- Touch your puppy to pet and play with it
- Feed it with good foods
- A little touch bathing
- Buy nice looking clothes
- Take a walk out to see interesting events and get gifts
- Multi-touch touch camera control: rotate and zoom
iPuppy will continue releasing new versions every two to three weeks. New breeds, toys, foods, events, friends and many more!!! Send us email to
ipuppy@masq.com.cn
. Your ideas will be mostly appreciated. New in this version 1. Add new hair dyeing tools, you can now change the hair color of your puppy.
2. Add room decoration tool to change the look and feel of your home.
3. You can change the name of your puppy in properties.
4. Gold reward. $5 for each five minutes you stay with your puppy.
5. Health reduce slower.
6. Solved too many bubbles when bathing.
7. Go out but no income bug fixed.
8. Noise when puppy sleeping bug fixed.
Languages English
Requirements Compatible with iPhone and iPod touch
Requires iPhone 2.0 Software Update
Download Links: