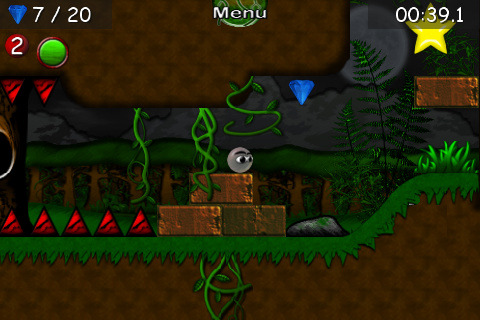 Get your Bounce On! Team Phobic presents Bounce On, a new side scrolling platform game in the vein of Sonic and Mario.

After falling from a familiar pocket, roll and bounce your way through over 15 levels on your adventure home. Keep your eyes out for priceless gems, adorable enemies, and amazing power ups you'll encounter on your journey.

The achievement system provides challenging gameplay for beginners and pros alike, giving hours of fun for all skill levels.

New worlds will be released as free updates for existing customers, so get your copy today! New in this version - World 3 (Forbidden Swamp)
- 16 new levels (48 total)
- New enemy (a carnivorous plant)
- Bubble ball powerup
- Water
- Four new songs (two for overworlds)
- More sound effects
- 4 new cutscenes
- World 3 boss
- Various gameplay tweaks and fixes Languages English

Requirements Compatible with iPhone and iPod touch

Requires iPhone 2.1 Software Update
To View Links You Have To Be Registered!!
Download Links: