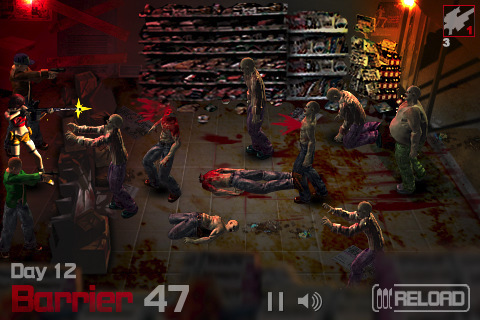 Attack From the Dead (AFD) is a Third Person Shooter(TPS) game that brings you an unforgettable chilling zombie shooting experience with realistic graphics, fantastic actions and outstanding visual screenplays.
The story started when the US Military received a SOS from Dr. Anderson, a Military Biochemistry Lab research scientist living in the remote city called "City of Dark Eagle". The US Military sent 3 special agents to this dangerous remote city with the mission to locate and rescue the scientist. After a thorough search of the entire city, the 3 agents were unable to locate any inhabitants including Dr. Anderson. That day when dusk arrived, the calmness of the city was soon disturbed with the frightening sounds of death. Troops of zombies from nowhere suddenly appeared and attacked the 3 agents. 2 of the 3 agents were killed leaving the 3rd agent "Jessica" to complete the task on her own. Agent Jessica had lost connection with the Headquarter and was hiding in a gas station's convenience store from the zombies. Your mission is to help Jessica to combat the zombies, rescue Dr. Anderson and regain contact with the Headquarter before dawn.
This game comes with different types of guns including revolver, submachine gun, shotgun…etc. helping you to fight against the zombies. Any successfully rescued survivors in the city can also help accomplishing your mission and increasing the chance of survival.
After having experienced AFD, you will discover that this is the best iPhone/iPod Zombies game.
Features:
- challenging and addictive gameplay
- rescue scientist and kill zombies in 30 Days
- different varieties of weapons and zombies
- different difficulty setting that suit different skill levels
- brilliant graphics and sound effects
For technical support or any inquiries about the game, please email
iphone-support@cdegame.com
.
New in this version - fix bugs that caused crash
- turn down sound volume
- improve player's movement. You can move while you are shooting
- lower the game's difficulty level
- greatly increase each weapons' ammo capacity
- greatly increase the amount of ammo gained from weapon shops
- increase the power of revolver
- increase the shooting range of survivors
Languages English
Requirements Compatible with iPhone and iPod touch
Requires iPhone 2.1 Software Update
Download Links: