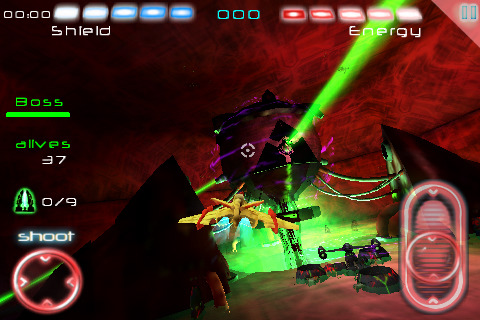 The most explosive 3D shoot'em up of the year.
Pilot a spacecraft and destroy the enemy fleets while controlling from left to right and from top to bottom with the accelerometer.
Exceptional playability.
Become the best pilot of the world and obtain credit in order to buy better spacecrafts in the shop.
Publish your scores on line and compare them to the other players of the whole world.
Find tips allowing you to pass the levels more easily and to increase your scores. Judiciously choose your bonus to change your weapons, increase your scores,… and many more surprises.
- Carry out your dream… to pilot : realistic controls.
- 6 spacecrafts to be chosen
- The best 3D graphics for a shoot'em-up
- Hours of flight : several levels, bosses, tunnels to travel through, several drives and races and as well two levels of difficulty.
- An innovating acceleration lever allowing you to control your speed while flying.
- A tactile button for shooting. New in this version IMPORTANT UPDATE
1. Complete overhaul of the user interface
2. Increasing the quality of the textures of the game
3. Improved FPS
4. Scoring system on-line and functional classification
5. Reducing the overall size of the file
Languages English
Requirements Compatible with iPhone and iPod touch
Requires iPhone 2.1 Software Update
Download Links: